With a stringer network of camera crews set up all over the country, All Sports Digital Media is a full service video production company that produces, shoots, edits, and uploads video content, distributed on multiple platforms including TV, Internet, and Mobile Devices. We cover all major sporting events including the MLB World Series, NBA Finals, NCAA College Football, NCAA Final Four, NFL Training Camp, MLB Spring Training, NYC Fashion Week and more. All Sports Digital Media is your one stop shop for high quality sports video coverage.


A full service freelance video production company, All Sports Digital Media, LLC is an online media production company that produces, shoots, and uploads video content across any platform on the web. We have covered past events including the Major League Baseball World Series, NFL Superbowl, NCAA Final Four, Fashion Week, NBA Finals, etc. These video segments include behind the scenes player interviews, preview and post-game stand-ups, press conferences, etc. If you are interested in our full service video production services, contact us online or call us at 917.334.3215 to find out fees, costs and rates for custom video projects...View Some of Our Recent Work
In the world of Internet media, we make video readily accessible within minutes of coverage. An example of this was at last year's Major League Baseball World Series. We were on the field in Philadelphia taping pre and postgame segments with the beat writers from CBSSports.com, along with taping several player interviews. Within minutes, the final edited video clips were uploaded, and up on CBS Sports.com's website. We also partnered with one of the top sportscasters and sports photographers for corporate events and sporting events.


FEATURED VIDEO PRODUCTION
| | | |
| --- | --- | --- |
| Ketle One Vodka PGA | Craftman Lawn and Garden | Pizza Hut |
| | | |
| One on One with Jose Bautista | Super Bowl XLV with AJ Hawk | Red Sox / Yankees Rivalry |
| | | |
MAJOR MARKETS FOR VIDEO PRODUCTION

>>> View an Entire List of Cities We Can Service

The entire video production process is done on site, with professional and full-service camera crews set up all over the country! This includes producing, shooting, editing, and uploading, all of which are explained in the steps below:
PRE-PRODUCTION
Scouting out the best possible location, ideal background and lighting for the best quality production.

CAPTURE
Shoot the video clip. (includes player interviews, game preview segments, pregame/postgame coverage stand-ups with talent)

CREATE
Digitize the video, and Edit the clip on site using our portable editing systems.

PROCESS
Encode the video to meet your specifications.

DELIVERY
Upload the final video clip to your website.

We specialize in game preview segments, player interviews, pregame and postgame coverage at all live major sporting events. Past events include: World Series, NBA Finals, NFL Draft, MLB Spring Training, NFL Combine, NCAA College Football Championship game, etc. For the 2008 World Series, we were on the field within minutes after the Phillies clinched the title, and were filming interviews with Jimmy Rollins, Chase Utley, and Ryan Howard. Those interviews were then immediately edited on site, and then uploaded to various websites; enabling viewers at home to see behind the scenes coverage on their computers. Our full service camera kits come equipped with a camera, audio, lighting, wireless microphones, tapestock, batteries, mac powerbook, etc. The camera kits have full editing capabilities on site; Everything from Pre-Production through Post-Production is done on site in a timely manner.

Meet the Founder of All Sports Media, Video Producer, Mike Steinberg: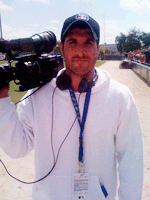 Born in NYC on December 30, 1980, corporate videographer, Michael Steinberg graduated from Northeastern University with a degree in Communication and Cinema Studies. In 2003, he led the Huskies baseball team to a conference championship and was named to the All Touranment Team and led them to the regionals against the #7 LSU Tigers. His passion for sports then evolved him to start one of the leading sports videography companies in the country. He is currently the executive producer of All Sports Digital Media, specializing in original feature-based online videos. His company has created and produced videos for such events as Fashion Week, NFL Training Camps, Major League Baseball World Series, and The Superbowl. He is also currently working with Olympic Gold Medalist Jennie Finch, CBS Sports.com, and IMG Media. Call Mike at 917.334.3215 to Inquire About His Sports Videography Company and Video Production Company.

Contact Us for more information to hire a video production company for your next event.